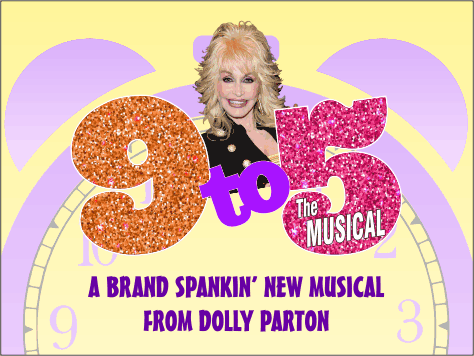 9 to 5 The Musical
9th-12th May 2018

Wed-Fri at 7.30pm. Sat at 3.00 and 7.30pm
You can download the leaflet here and book online
Rehearsing from 26th January 2018

DETAILED AUDITION INFORMATION IS NOW AVAILABLE
See here for special information about joining for this show.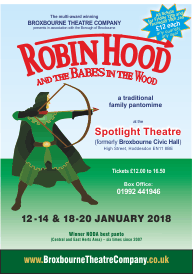 Robin Hood and the Babes in the Wood
12-14 and 18-20 January 2018.
Join Robin Hood and his Merry Men as they search the forest to rescue the Babes from the evil Sheriff of Nottingham.
Nurse Norah the pantomime dame doubles as their school teacher. Her lessons are sure to be much more fun than any class you've been in.
Together with Maid Marian and a large supporting cast and chorus, this will be another colourful and spectacular show for all the family to look forward to. You can be one of Robin's Gang too.

CAST of Robin Hood and the Babes in the Wood

Robin Hood
Maid Marian
Will Scarlet
Friar Tuck
Little John
Sheriff of Nottingham
Herman the Henchman
Nurse Norah
Spirit of the Greenwood
Babes
Chorus of Villagers, Soldiers , Merry Men etc
Dancers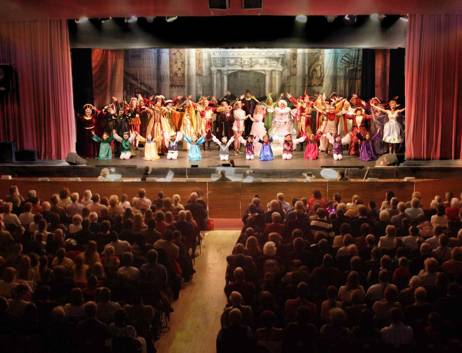 The Spotlight Theatre has a comfortable auditorium seating nearly 500. Formerly Broxbourne Civic Hall, you'll find it beside the car park near the junction of Hoddesdon High Street and Cock Lane.
It's right on the doorstep from Cheshunt, Cuffley, Goffs Oak, Waltham Abbey, Waltham Cross and Wormley, close to Enfield, Hertford, Chingford, Epping,North London and Harlow and within reasonable travelling distance of Hertfordshire towns such as Stevenage, Ware, Welwyn Garden City, St Albans and Bishops Stortford.
Terrace seats are fully tiered and there is a large licensed bar which opens one hour before evening performances. To avoid the interval rush, you are recommended to order interval drinks from the bar before the show starts.
Travelling North
from Broxbourne traffic lights, look for the Police Station on the left and the theatre's approach road (very short length of dual carriageway) which is next after the police station and arts centre/museum.

Travelling South
from Hoddesdon Town Centre, turn right at the Cock Lane roundabout and left before the car park.
See this town centre plan, or if travelling from further afield, see this wider map view.
By public transport: Arriva bus service 310 passes the entrance. Alight at Hoddesdon Police Station.
You can use this journey planner (filling in destination as EN11 8BE) to find complete routes by bus or train from any address in the area.
Alternatively you can see the Arriva 310 timetable. Timetables may still show the venue as Broxbourne Civic Hall which is between "Hoddesdon, Amwell St, Clock Tower" and "Broxbourne, High Road, Post Office" on the bus timetable.
Please note: the 310 bus has limited evening service. You will be able to to travel to and from all performances beginning 6.30pm or earlier, but when returning after 7.30pm performances there will be no bus for Waltham Cross. Trains continue running later, but evening trains do not stop at all stations, so you may need to arrive and depart from different stations.
How to book
Hoddesdon One Stop Shop is now located in Hoddesdon Library
Cheshunt One Stop Shop is now in Laura Trott Leisure Centre in Grundy Park
---

ONLINE

Bookings for Broxbourne Theatre Company shows can be made on line.


To book online, click here

On line bookings provide immediate seat reservation for up to 9 seats, but the service may end on the last working day before each performance.

Credit Card Required

There is a transaction fee which will be confirmed during online booking.

---

BY POST

You can

download a leaflet




and booking form

Please return with cheque and SAE.



---

IN PERSON

The Spotlight Theatre


(formerly Broxbourne Civic Hall)



Mon-Wed
9.00 - 4.30

Thu-Fri : 9.00 - 1.00

[ except Xmas day, Boxing Day
and New Years Day ]

AND one hour before any performance

High Street,
Hoddesdon
EN11 8BE


Credit Cards Accepted

Broxbourne
one stop shops






Hoddesdon: 98a High Street

Waltham Cross: 123 High Street

Cheshunt: Laura Trott Leisure Centre


Credit Cards accepted from




personal callers




---

BY TELEPHONE
Please call the Spotlight

Box Office 01992 441946



Mon-Wed
9.00 - 4.30

Thu-Fri :

9.00 - 1.00




[ except bank holidays ]



AND one hour before any performance


Credit Cards Accepted

There is a £1.50 booking fee for telephone bookings