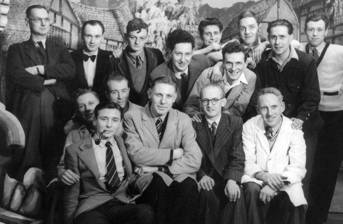 ETCEA Stage Crew 1943
Broxbourne Theatre Company

(formerly ETCEA)
History Highlights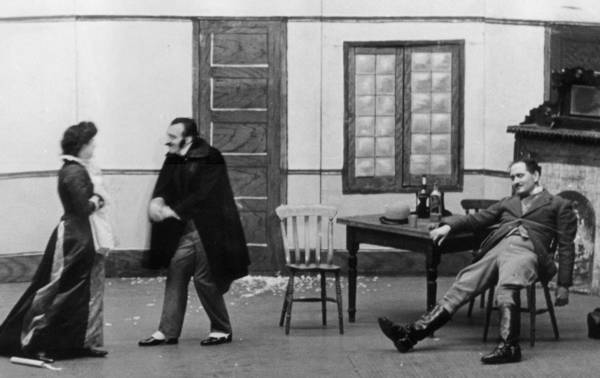 "Into The Snow" from Silver Lining (1944/45)
Christmas 1943
In the darkest days of war torn Britain, the staff and students at what was then Enfield Technical College in North London decided to boost morale by presenting an end of term show. But this was not to be just another school carol concert! Revue was the popular form of entertainment in those far off days and so College Pudding was to be a rich mixture of song, dance and comedy.
Little did the College staff know what they were starting when they turned for advice to a lecturer in the Electrical Engineering Department. Before the war, Alec Stretch had for many years been the Chief Electrician at the Intimate Theatre in Palmers Green when it was a fully professional repertory theatre. Now he was on temporary secondment to the College to train army engineers desperately needed for the war effort.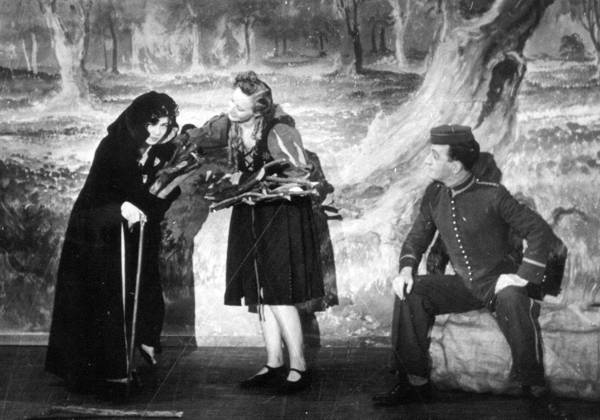 Cinderella (1946/47)
The result was a polished show that was so well received that an Entertainments Association (ETCEA) was formed and more revues were presented throughout the remainder of the war years. Each production was more ambitious than the previous, building up to the presentation of our first annual pantomime Cinderella in 1946.
1947-1949
The reputation of ETCEA's productions spread quickly and the demand for tickets grew at such a rate that by 1948 our third pantomime Babes in the Wood played to packed houses for 10 performances. This was nearly 5,000 people – no mean achievement for a school production!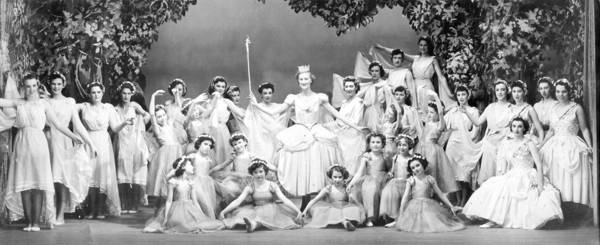 Mother Goose (1954/55)
A spectacular show with fun for all the family was what the public demanded in those dreary days after the war. and that was what ETCEA gave them. As well as producing, directing and designing sets and lighting for all of our shows, Alec Stretch also took a major hand in the writing of scripts for those early productions. A measure of his success can be guaged by the fact that our script for our 1949 production Dick Whittington was used a year later for the first ever ice pantomime at Wembley.