Broxbourne Theatre Company


Registered Charity No. 1181847
Quick Links:
It's time to book for
another GIANT PANTOMIME
from Broxbourne Theatre Company

(oh yes it is!)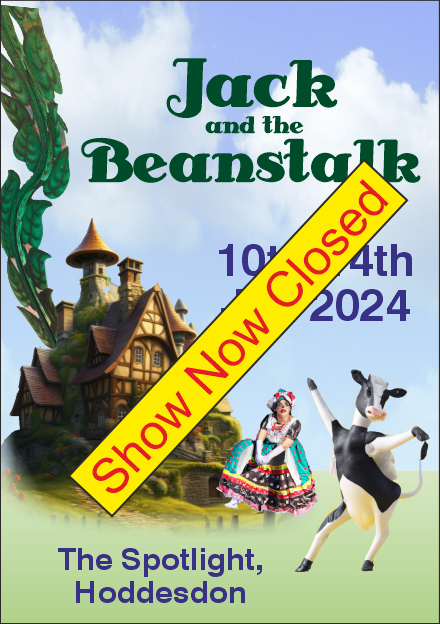 A traditional family pantomime
by Ben Crocker
To win the princess's affections, Jack must defeat Giant Blunderbore, terror of the village.
Meet also Simple Simon, Daisy the Cow, Dame Trot, fairies and a host of other traditional fairy tale characters.
This colourful and spectacular show will once again have lots of comedy, slapstick, a large cast, plenty of music and fun. It is ideal for all the family and also as an outing for larger parties from companies, schools and social clubs.
Sat 13th Jan at 2pm: last few seats

Other weekend performances selling fast

Plenty of seats available for
Wed, Thu, Fri Evenings

Tickets available from the Spotlight here
or call 01992 441946
Wed 10*, Thu 11, Fri 12 Jan
at 7.30pm
Sat 13 Jan
at 2.00pm and 6.30pm
Sun 14 Jan at 2.00pm only
Tickets £19.50
Under 14 or over 60, parties (10 or more)
and Spotlight Friends £17:50 each.
Family ticket (2 adults, 2 children) £64
*Wednesday night special: all seats £17:50, family ticket reduced to £60.
Quick Links:
Monitored by SiteUptime.com